Are you a clothing brand looking to build a robust online base? Well, designing an eCommerce website will be your first step. Now you may ask, how to make a website for clothing brand? Well, this exhaustive guide contains all the answers to the vexed question. Our step-by-step approach will help you with clear guidance so that you can build your own clothing brand from scratch. So, without wasting anymore time, let's get into action!
How to Make a Clothing Website: Step-by-Step Instructions
Step 1: Pick A Domain Name
You have to pick a domain name for the website of your clothing brand. However, before funneling downs the domain name options, you have to pick the niche and target demographics for your brand. Once you know the metric, you can communicate with them properly and avoid encompassing people that have different tastes and requirements.
A domain is crucial for your website as it is the address that the visitors will use to find your brand on the internet. So, make sure that the domain name of your brand's website is short, crisp, and easy to memorize.
Step 2: Choose Your Platform
When you have pinned down a suitable domain name for your fashion website, it is time to pick a platform to create and build it. There are different options available to make your clothing website. Here we will discuss the top three platforms in the market.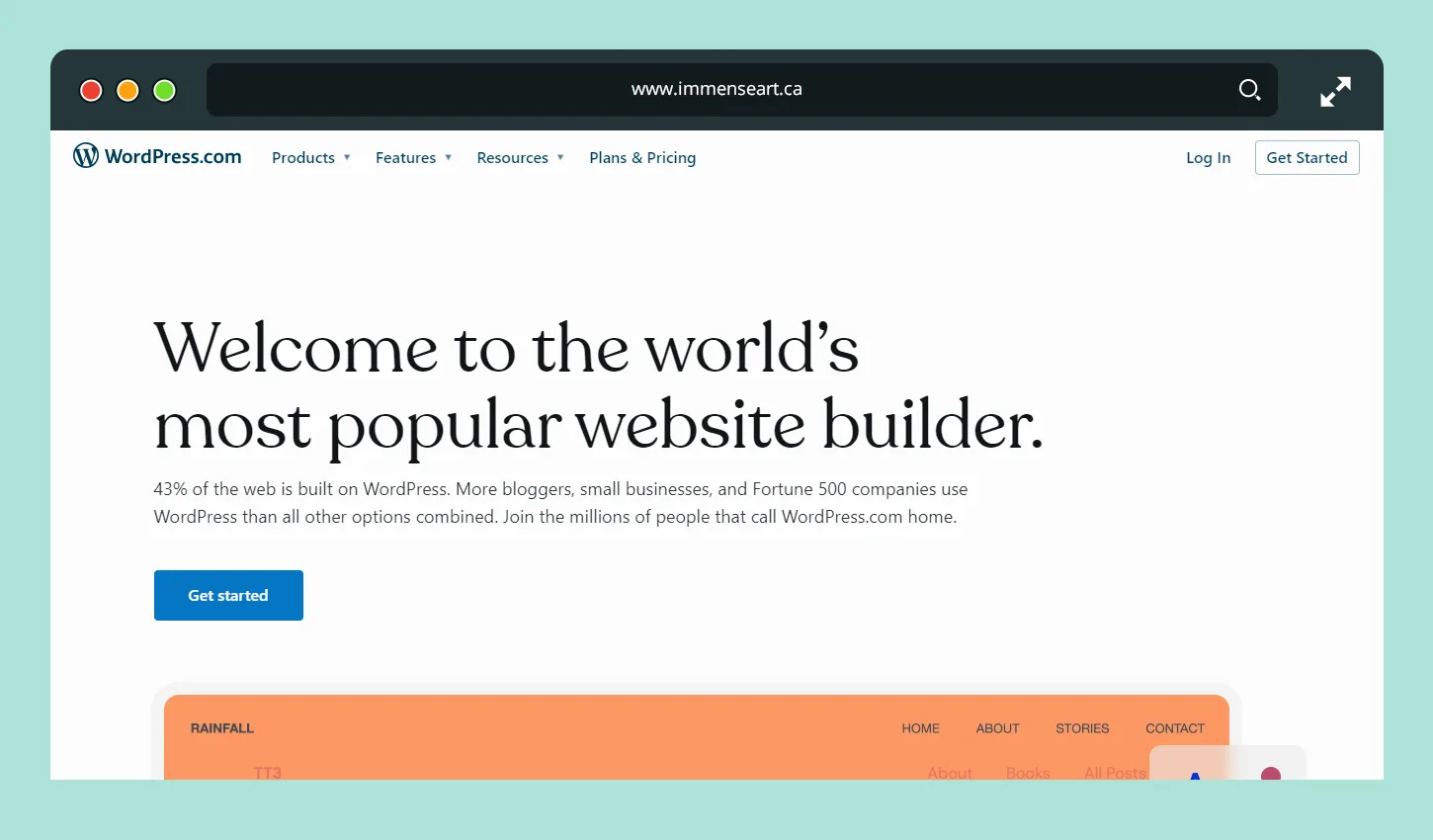 WordPress is a popular platform for creating your clothing store. It constitutes 43% of the web, encompassing rising brands, bloggers, SMEs, and large corporations. Whether you are going to start your clothing store as a hobby or want to pursue it as the primary source of income, WordPress will cater to all your development needs.
Features:
Quick designing: With WordPress, you get a myriad of themes that you can use to create your clothing website without making everything from scratch. Moreover, you get access to a block editor and drag-and-drop facility to perform the modifications quickly.
High extensibility: With tons of plugins in its armory, you can elevate the functionality of your fashion website in no time. Moreover, you can test the changes before going live with your website with WordPress.
In-built marketing: With WordPress development, you get in-built support of social media tools, SEO, and email marketing to promote your brand properly.
High Performance, Security& Reliability: With WordPress, you can create fast loading and high-performance website for your clothing brand and enjoy DDoS and WAF protection. Moreover, you get unmetered bandwidth and traffic with undaunted support from the tech team.
Pricing:
WordPress is free for everyone. You can enjoy the basic features. However, if you wish to gain access to advanced features, then you have to opt for its premium plans. Click here for all details.
Want to build your clothing website and grow your eCommerce store simultaneously? Don't worry. Shopify is here to the rescue. You can manage both online and offline stores using Shopify technology and land in a world of new opportunities.
Features:
Quick order management through an interactive dashboard: With Shopify, you can oversee and manage all the orders using its interactive dashboard. Moreover, you get access to solid analytics tools with which you can monitor different metrics of your store and tweak your strategy to grow it.
Easy payment integration: Shopify comes with easy integration to several payment gateways so that you can enjoy secure payments on your clothing website.
Shopify POS: With Shopify POS, you manage your small business in the physical and digital world without going through any unnecessary hassle.
Excellent SEO tools: With Shopify, you can easily implement SEO strategies on your fashion website and store and improve its ranking over popular search engines.
Pricing:
Shopify comes with five different plans ranging from $5 to $2000. You can choose any according to your requirements. Click here for all details.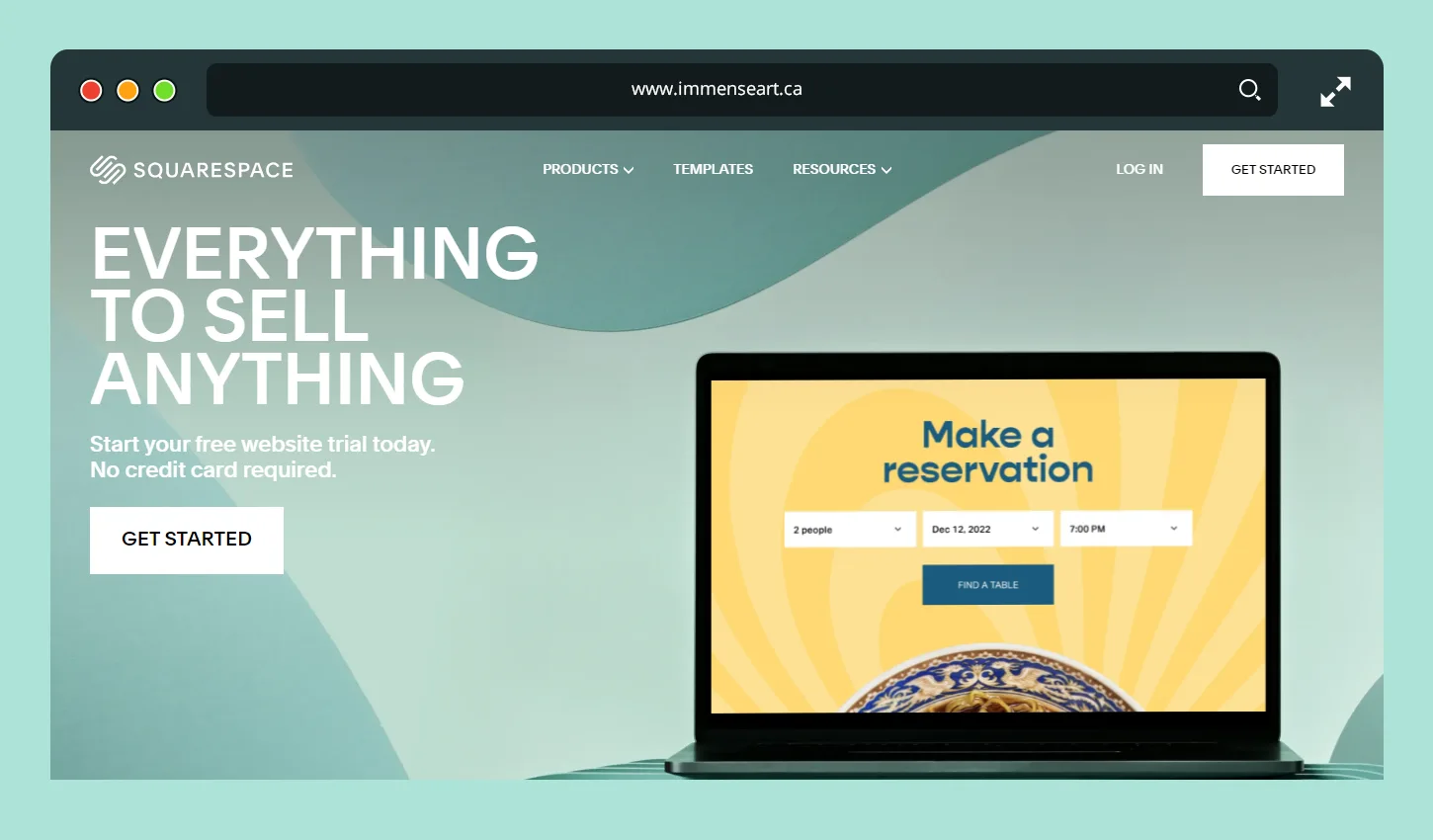 Next on the list is Squarespace, which is another excellent platform to run your clothing brand and store. You will get all the resources under one roof to build and manage your website.
Features:
Interactive website builder: With Squarespace, you get access to an interactive website builder to make your clothing website in no time. You can use custom templates and tweak them to create your end product.
All-in-one solution: Blog, website, eCommerce store, you can make and manage everything with the wide arsenal of resources with Squarespace.
Quick integration to 3rd party services: You can extend the functionality by connecting to 3rd party services in no time. Moreover, you can optimize your store and website with SEO without using any plugins through Squarespace.
Consistent support: No matter the type of query, you will get excellent support from the in-house team of Squarespace with quick solutions to all your issues in the least possible time.
Pricing:
There are four different plans under Squarespace services ranging from 16 dollars to 49 dollars. You can pick any according to your needs. Click here for all details.
Step 3: Get a Hosting Plan
After picking the platform, you have to pick the hosting partner for your clothing brand. It is necessary as you need a digital space for the files of your website on the internet. GO through different choices available on the internet and pick the one that caters to your needs and comes under your budget.
Step 4: Install WordPress &Theme
Once you have decided on your hosting partner, then you need to install WordPress and the theme for your website. Most of the hosting platform comes with a one-click installation process. You have to fill in the credentials, like username, password, and website name, and click the button to finish the installation process.
You can get your theme under the Appearance tab. Search for the name of your theme and install it.
Step 5: Install WooCommerce
For WooCommerce, follow the below-mentioned easy steps.
Go to Plugins and click on the Add New option.
Now search for the WooComeerce and click on the install button.
Now click on the Activate button to enter the setup wizard.
Enter the details of your fashion website and check out to complete the process.
Step 6: Add Your Products
Once the installation finishes, it is time to build your catalog by adding your products. In the budding stages, you can rely on t-shirt mockups to present your products beautifully. Once you set your stage, you can get high-end PR shots done to expand your network.
Remember, high-resolution images set the right tone for your clothing store and ultimately build a solid brand image.
Step 7: Start Promoting Your Store
This involves creating a full-proof marketing strategy. You can follow the given series of steps to position your brand in the market.
1. Blogger and Influencer Outreach
2. Promote more Video Content
3. Paid Social Advertising
4. Seasonal Discounts and offers
5. Email Marketing
6. Follow Giveaway Campaigns
7. Implement new social media features to your advantage
Hire a Website Development Company for Your Clothing Brand
After understanding all the steps, you must understand that the entire process is not a one-man job. Also, hiring freelance experts and getting your job done will also take a lot of time and effort. So, it is highly recommended to opt for a web design and development company in Scarborough.
FAQs
How Much Does It Cost To Design An Ecommerce Website?
Designing an eCommerce website may cost somewhere between $10,000 and $300,000. However, this price is subject to variation as per the website's complexity and platform to be used. Now some companies operate on an hourly basis while others on a monthly basis, you can talk with the company regarding this and decide on what works for you!
Is There Any Free Website Builder For Clothing Website?
Wix, WordPress and WooCommerce are a few free website builders to help you set up your fashion website. Since this website builder comes with countless features, you just need to make a list of all the features that you want in your online fashion store. Their seamless drag-and-drop editors with eye-catchy templates will aid in faster web development.
How To Build A Strong Fashion Brand?
It is not easy to build a great fashion brand. From manufacturing high-quality clothes to imparting a customer-friendly experience, it is a long road to cover. To keep online sales steady, all it takes is a well-formulated sales strategy, clear marketing copies, and a flawless website experience that makes your customers trust your brand.
Some Last Words
Now that you have learned all about how to make a website for the clothing brand, you know exactly what it takes to build a fashion store. So, all you need to do is assemble your team and start with the planning part. To ease that as well, you can hire a professional WordPress development company to handle all technical aspects with finesse.